What is Chronic Inflammatory Disease?
Well known chronic inflammatory diseases include rheumatoid arthritis, inflammatory bowel disease, psoriasis and degenerative brain disease.
They last longer and more repeatedly than acute inflammation, and are related to autoimmunity in most cases.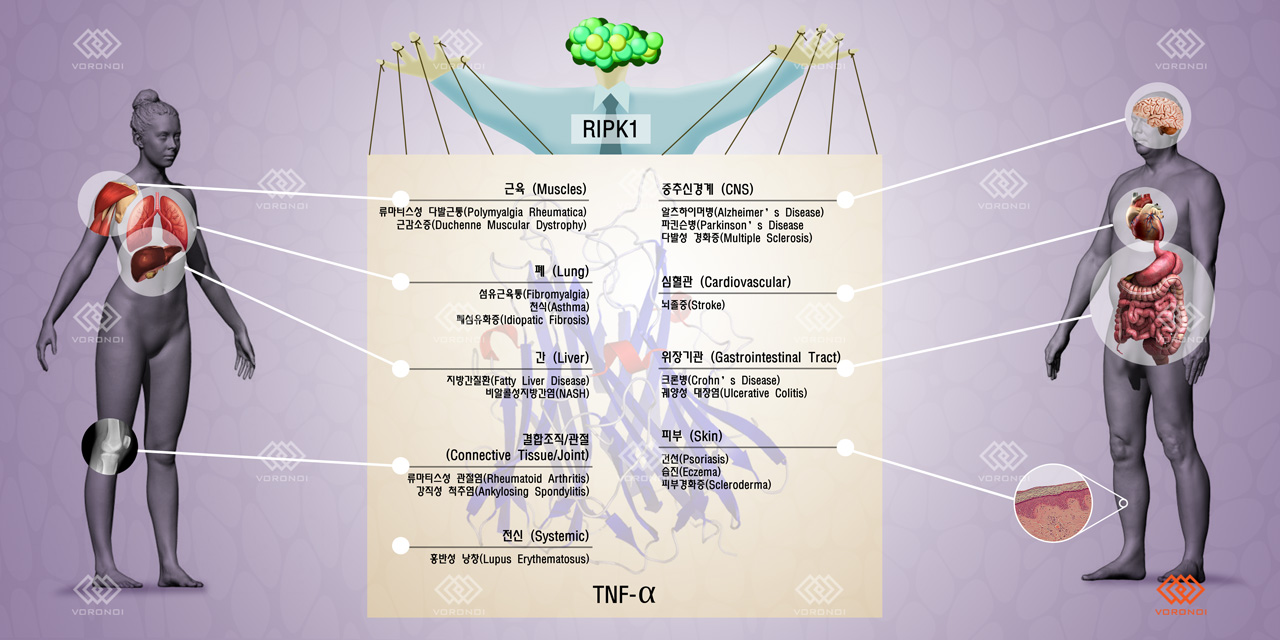 Most chronic inflammatory diseases are closely related to TNF-α (Tumor necrosis factor-alpha), which causes inflammation. TNF-α is secreted from various immunocytes, inducing inflammation, cell death and pyrexia. The market for injectable antibody therapies targeting TNF-α and the receptor is worth KRW 30 trillion a year.
Targeted therapy Suppressing TNF-α Signal Transduction
RIPK1 is a target that plays an important role in inflammatory signal transduction by TNF-α. Therefore, if RIPK1 activity is suppressed, TNF-α-induced inflammation can be prevented. RIPK1 target therapies have another important advantage. They can be taken orally unlike existing antibody therapies, greatly improving patients' convenience.
Therapy Development Status
Competitors' Progress
RIPK1 targeted therapy development is currently led by U.S. firms GSK and Denali. As of 2018, GSK is conducting phase 2 for rheumatoid arthritis, inflammatory bowel disease and psoriasis. Denali is conducting phase 1 on therapy for amyotropic lateral sclerosis.
Voronoi's Progress
Voronoi has discovered nonclinical candidates, and is planning to work towards both chronic inflammatory diseases and degenerative brain diseases. We have secured a candidate with superior efficacy to GSK772, GSK's competing compound for chronic inflammatory diseases. We also have discovered two candidates with high blood-brain-barrier penetration, and development is ongoing for degenerative brain diseases. We plan to select the final candidate and start clinical investigation in the 2nd half of 2019.
Possible Expansion to other Indications
TNF-α can be called the master key to inflammations. Researchers hope that oral RIPK1-targeting drugs will be highly efficacious for eye diseases such as xerophthalmia and macular degeneration, hepatocirrhosis accompanying chronic inflammation, acute pancreatitis and re-perfusion injury, which often causes problems in organ transplant.
Pipeline
VRN02 program is under development for the treatment of autoimmune diseases, by inhibiting DYRK1A kinase activity. Series of animal experiments have suggested that VRN02 has efficacy for major autoimmune diseases such as rheumatoid arthritis, lupus, psoriasis, inflammatory bowel disease, and atopic dermatitis, and we are expanding into other indications. VRN02 is under development not only as oral pills, but also as topical formulation to apply on skin.